Jurassic World: Dominion Dominates Fandom Wikis - The Loop
Play Sound
image
Human
Name
Nettie Kutcher
Nicknames
Mrs. Kutcher
Affiliation
Conestoga Hills Middle School
Gender
Female
Age
40's-60's
Abilities
Skilled chef, can produce creative cuisine.
Weaknesses
Easily frightened.
Actress
Diane Douglass
Nettie Kutcher, better known as simply Mrs. Kutcher is a recurring character in Season 1. She works as a dinner lady and cook in Conestoga Hills Middle School, and likes children who eat well and appreciate her food, having a close friendship with Chuck Mugel. She only appeared in the first season.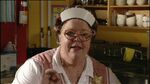 Appearance
Mrs. Kutcher is a middle-aged obese woman, who is likely in her forties, fifties or sixties. She has ginger-coloured hair that appears to have been dyed, but in her last appearance, her hair has become blonde and brown. Her usually clothes consist of horned-rimmed glasses, and dinnery lady school uniform, made up of a white top, a pink apron and a dress. Her hair is usually curled and placed under a hairnet. Mrs. Kutcher is shown that she does not always need to wear her glasses.
Personality
Mrs. Kutcher is effectively a kind and caring person, supporting and acting motherly towards Chuck and others when they feel down. She likes Chuck for appreciating her food, and is often very kind towards him. However, whilst on duty, she comes off as a moody and unappreciated person. Students at the school find her food disgusting, as all of the good food is usually given to Chuck. Mrs. Kutcher likes people who appreciate her food and "healthy children", as seen repeatedly when she loudly shouts to the cafeteria about it. She dislikes people who dislike her food, smart-mouthed people, and people stealing her food. She has an encounter with Pigface at one point and angrily chases him out of the cafeteria. Mrs. Kutcher is easily flattered, and may misunderstand phrases. She is easily frightened, comically throwing food into the air in surprise. In her cooking, Mrs. Kutcher can be very creative, producing cakes resembling a brain, or an UFO, both ironically made for Chuck. She can be overemotional at times too.
Relationships
Chuck Mugel: Mrs. Kutcher is very fond of Chuck, treating him as a mother would and often fussing over him. She is very supportive him and refers to him as "Chucky". Chuck shows a liking for her cooking and she often spoils him by giving him special treats which the other students do not recieve. Food includes special-made cakes for special occasions like when Chuck enters the tri-county science competition and sees a UFO, actually Sparx. Chuck has shown great kindness and appreciation towards Mrs. Kutcher, nobly starting a rebellion against Mr. Cheseborough in Episode 25 when he learns that Mrs. Kutcher's salary has been cut.
Mark Hollander: Mrs. Kutcher has a limited relationship with Mark, but acknowledges him as friend of Chuck, offering him food given to Chuck. In their first scene together, Mark compliments Mrs. Kutcher on a basket of baked buns, but she mistakes him for describing her bottom, causing her to shout angrily at him. Mark displays objections to how Mrs. Kutcher spoils Chuck.
Horace Cheseborough: Mrs. Kutcher's relationship with Mr. Cheseborough is one that changes. At times they can be on good terms, and on bad terms. At one point, an angered Mrs. Kutcher reveals to Chuck that Mr. Cheseborough cut her salary in half and lowered the feeding standards at the school. In the last episode of the first season, it is revealed that Mr. Cheseborough adores her cookies, finding them "utterly irresistible". The two form what appears to be a romantic relationship.
History
It is unknown how long Mrs. Kutcher worked at Conestoga Hills Middle School, but likely around the time Chuck first appeared there. She first appears in Episode 4, where she offers Chuck several treats including a banana cream pie, butterscotch pudding, and tapioca pudding. However, Chuck discovers a pea in the tapioca, causing him to horrifically be sick in the middle of the school cafeteria. Mrs. Kutcher is shown just to pass off his nausea. She later appears cooking short bread in the cafeteria after school hours, encountering Pigface eating a tray of mashed potato, oblivious to Chuck who sits nearby. An enraged Mrs. Kutcher chases Pigface out of the cafeteria with a potato masher and warns him not to come back for seconds.
In Episode 6, she is shown serving French cuisine which Chuck first likes but eventually finds it disgusting. She returns in Episode 9 when Chuck enters a tri-county science competition by constructing a working robot with help from Mr. Cheseborough, called Leviathan XL1. She creates a cake shaped like a brain which she admits she spent half the night making. She makes a similar cake shaped like a UFO for Chuck in Episode 16 when he records footage of Sparx flying through the air, mistaking her for an alien. She briefly speaks with Mr. Cheseborough and tells him of the "aliens", striking a cord in Mr. Cheseborough's head and bringing back the memories of his forgotten kidnapping by Lord Fear.
She appears at Chuck's meeting of the Conestoga Hills' Ace Lightning Fanclub, chuckling at Coach's Ace Lightning t-shirt and noting that she would tell the other dinner ladies about this.
In the last episodes of the first season, Mr. Cheseborough is briefly the acting headmaster for the school and cuts the salaries of the staff to install new security equipment, including Mrs. Kutcher's salary. This prompts Chuck to briefly start a rebellion against Mr. Cheseborough and convinced him along with Mark to be rid of the security equipment and fix everything, including Mrs. Kutcher's salary.
In Episode 26, Mrs. Kutcher serves out the food at the school prom, pitying Chuck when Jessica Fisgus is late for their date. Mr. Cheseborough repeatedly attempts to steal Mrs. Kutcher's cookies. She confronts him and he reveals that he finds her cookies "utterly irresistable". Totally surprised by this, Mrs. Kutcher appears to fall in love with Mr. Cheseborough and asks him to call her by her first name. The two are in last scene together dancing whilst Mrs. Kutcher gives Mr. Cheseborough cookies.
It is presumed Mrs. Kutcher did not appear in the second season due to not switching to Conestoga Hills High School like Chuck, Mark and Mr. Cheseborough did.
---